Eyecare Services
Your vision is extremely important. At Today's Vision Conroe, we want to help make sure you can see as well as possible for the long term. If you're in the Conroe, TX, area, we're here to help you see and enjoy the world around you. With comprehensive eye exams, preventive eye care, and other services, you can get the support you need from us to see clearly and protect the health of your eyes. Here are some of the services that we offer: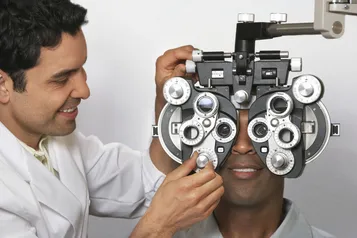 Comprehensive Eye Exams
A comprehensive exam is about more than just how well you see. While that's very important, our exams also look for eye health issues such as diabetic retinopathy and glaucoma. If you have problems with your vision, or a condition that affects the overall health of your eyes, it can be important to find out as early as possible. You can then work with an optometrist on our optometry team to decide on the best course of treatment in your specific situation.
This can be important for health as well as peace of mind. It gives you important information about your current vision and eye health. If anything changes from one exam to the next, the difference will be noticed and can give you knowledge about the potential for future or ongoing changes, as well.
Prescription Eyeglasses
Seeing clearly makes activities easier, helps you get work done, and gives you the chance to focus on things like hobbies. No matter what you're doing in life, or what you'd like to do in the future, you want to have good vision. Getting prescription eyeglasses is one of the best ways to see well but there are also options such as contact lenses. We'll help you choose the treatment that's right for your needs, whether that's eyeglasses or a different option.
Preventive Eye Care
If you have a medical condition or eye disease and need ongoing monitoring and treatment, we are here to help. Preventive eye care can be important if you're at risk for a serious condition or if an optometrist on our team sees a problem developing. You may need to come in more frequently to see if the issue is progressing and you may also need medications or other treatments to slow the progress or correct a fixable issue, depending on the condition.
Get Comprehensive Eye Exams, Prescription Eyeglasses, and Preventive Eye Care from an Optometrist
If you're in the Conroe, TX, area and in need of an optometrist near you, reach out to us today at Today's Vision Conroe. We can help you get the preventive eye care and comprehensive eye exams you need to make sure your eyes are healthy. Don't settle for less. Reach out to us for your eye care needs. Call us at (936) 788-2600 for eye care from an "optometrist near me."